We award large grants up to $2,500 and small grants up to $300 to staff and students for innovative projects that are not funded by the school district. The grant application outlines types of requests the Foundation may approve and the application process. The Foundation review dates are January 15th, September 15th, and November 15th. 
Funding for grants comes from the Education Foundation Endowment Fund, the Cocica-Holmstrom Family Science Fund, or the Elementary School Fund supported by the Community Foundation for Marquette County.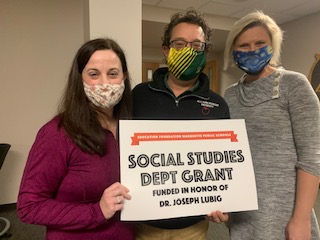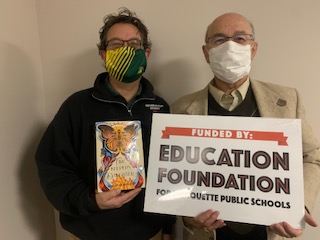 The MAPS Makerspace is a place for people to explore, invent, collaborate, tinker, play, create, and experiment! See what they are up to here:
The Education Foundation is administering a grant fund to help support our students' efforts at the Makerspace. You can contribute by visiting our Donation Page, selecting Grants, and selecting the Makerspace fund.
Application Date
Grant Recipient Name
MAPS School
Grant Title
Funding Amount
4/2021
D. Kruhak & A. Fure
Sandy Knoll
Yoga Calm
$850.00
3/2021
T. Vickers
Superior Hills
Contrabass Bars
$1,430.00
3/2021
R. Hauff
Graveraet
Projectors for Visual Learners
$2,066.00
3/2021
A. Racine & C. Phillips
Cherry Creek
Multi-Sensory Core Learning
$478.32
1/11/2021
A. Pruner
Sandy Knoll
Mock Caldecott
$500.00
1/5/2021
T. Lajimodiere
Graveraet
1st Floor Sensory Room
$500.00
1/5/2021
A. Racine
Cherry Creek
Every Student Gets to Read
$1,000.00
12/8/2020
M. Hoffman & M. Dye
MSHS
Multimedia Editing Studio
$1,118.00
12/8/2020
R. Barker
Bothwell
Exercise Tools for Diverse Learners
$312.94
12/8/2020
K. McCutcheon
MSHS
Movement Matters
$500.00
12/8/2020
R. LaBrecque
MSHS
Next Level Virtual Teaching
$950.00
12/8/2020
E. Hammerstrom
MSHS
RedSpan TV Production Trailer
$2,500.00
12/8/2020
C. Smailey
MSHS
Outdoor Learning Space
$1,852.00
5/1/2020
R. LaBrecque
MSHS
Face Shields - Makerspace
$1,000.00
5/1/2020
K. Bancroft
Superior Hills
Superior Hills Actively Reading Everyday
$750.00
2/1/2020
L. MacQuee
Bothwell
Mindful Schools in Middle School
$150.00
2/1/2020
W. Nyfler & W. Manson
MSHS
Colorblind Glasses
$2,281.12
2/1/2020
D. Kruhak
Graveraet
Inclusive High-Intensity Field Day
$575.00
10/22/2019
Z. Sedgwick
Superior Hills
SH Outdoor Learning Space
$2,500.00
10/22/2019
H. Marsic
Graveraet
Zoo Phonics
$75.00
10/22/2019
T. Lajimodiere
Graveraet
Sensory Room Update
$931.49
5/1/2018
Tracy Feliz
Cherry Creek
Garden Club
$1,500.00
3/1/2018
Wendy Hill-Manson
MSHS
Biology Microscopes
$730.10
1/10/2018
Steve Solinski & Stephen Atwood
MSHS
Weather Station
$500.00
1/10/2018
Fred Cole
MSHS
We the People State Finals Registration & Supplies
$325.00
10/1/2017
Jake Fether, Becky Simmons with Students: Mia, Alyssa & Grace
MSHS
Wacom Tablets for MAPS Makerspace
$1,200.00
10/1/2017
Trisha Vickers
Superior Hills Elementary
Ukuleles for the Music Room
$1,274.70
10/1/2017
Steve Solinski & Stephen Atwood
MSHS
Weathering and Erosion in a Rock Tumbler
$238.00

2017-2021 TOTAL GRANT DISTRIBUTIONS

22,319.87